Become a Dancer
Sneha, 10 months ago
0
8 min

read
166
What kind of dancer do I want to be?
To figure out what kind of dancer you want to be, you need to figure out what your goals are and the style that suits you best.
Having a clear vision of what kind of dancer you want to become will be crucial in helping you find your stride as you leap into the dance world. Determining which style suits you best (and brings you the most joy) is the first step in focusing your physical and artistic energy and ultimately achieving success. That's not to say that trying out various styles is less advantageous; it simply depends on what your goals are, and in certain instances, will even be necessary. For instance, a modern company may create a piece of work fusing contemporary ballet and Spanish dance styles, and will be specifically looking for a dancer with experience in both!
Another important factor to consider is whether you prefer to choreograph your own work or interpret someone else's. (Some choreographers perform in their own work as well and get the best of both worlds.)
Generally, one must ask, in what direction do I see myself going? If your dream is to be part of a classical ballet company, you absolutely focus on classical training. Are you interested in a contemporary ballet career? Or perhaps you'd like to be a tap or jazz dancer on Broadway or at Radio City Musical Hall? Whether you love hip-hop or salsa, we want to help you take a clear direction as you move forward. Knowing exactly what you want for yourself as an artist is half the battle.
What tools do I need?
The tools you need to be a dancer are:

Headshot
Résumé
Dance reel
Backstage
Headshots
Having a headshot will be required at most auditions and castings that you attend. These help agents, casting directors, and choreographers to remember you and determine who may fit the specific look the company or production is going for. That being said, make sure your headshot looks like you! This may seem obvious, but you likely won't land the job if you have long hair in your headshot and show up with a pixie cut. Do your best to look natural and show them the real you.
Your face should be clearly visible in the 8" x 11" photo—remember, it's your calling card with casting directors and choreographers. It's first taste the casting team will get of your personality as a dancer, so you want to make sure you're leading with the right (and accurately portrayed) foot. Keep reading for a quick, three-step guide to getting the most out of your next headshot session.
1. Find the right photographer.
While it may seem a simple enough task to point and shoot, nailing down a photographer whose style works for you may make the difference between blending in with the crowd and really shining as the dancer you are. Posing in front of a camera with directions to "be yourself" is never not a vulnerable place to be, so you want to make sure you're working with someone who you're comfortable with, who knows what to say to make you relax, and generally speaking just someone who knows how to take a good picture.
"Headshot sessions are emotional and personal experiences. If you aren't comfortable, there's no way that you can expose your true self in front of a camera," says image consultant and Backstage Expert Tom Burke. "I have watched many headshot sessions crash due to the same thing: the wrong mixture of personalities. For example, a Type A photographer cannot shoot a Type A actor. The entire time they'll be fighting for control, resulting in stiff-looking pictures. A very green or laidback actor should also never shoot with a Type A photographer. They are not strong enough to exert their individuality and/or power and are led down paths that just aren't right for their type or brand." Of course, this goes for dancers, too!
Besides natural chemistry, finding the right photographer is also about knowing what questions to ask. Get them on the phone, or if they have a website, peruse their portfolio and FAQ page to find out how long a session with them lasts, how much they charge, how many photos you'll walk away with, how long they'll take to retouch, and their licensing rights to your image. Trying reaching out to friends and see if they have any recommendations!
2. Figure out what to wear and how to do your makeup.
These photos represent you and your dancing, so be sure to prepare outfits and a makeup routine that make you feel your most confident. Headshot photographer and Backstage Expert Marc Cartwright advises that you should look presentable, but the focus should be on you as a performer, not on the designer you're wearing (or, for that matter, the costume).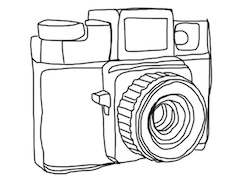 If you're an artist on a budget, Cartwright also says that one way to ensure you're dressed to impress is buy and return—just don't tell Target that Backstage sent you! "In a headshot, faded, wrinkled clothing with stains and holes only reflects on your professionalism. Finances should not be a reason you show up to your session with clothing that shows you don't take yourself, your headshots, or your career seriously," Cartwright says. "Most stores have a 30-day return policy. [But] it might be a good idea to keep the items you wind up using in your headshot session so that you have something for auditions." If that little hustle is outside your comfort zone, and other great option is to call up a fashionable friend and see if she or he has anything for you to borrow. "Just remember to treat their wardrobe better than you would your own."
As for makeup, photographer and Backstage Expert Luke Fontana tells his clients that less is more—the more natural-looking, the better! With men in particular, it's best to come to a session au naturel. With female actors who hire a makeup artist before a session, best case scenario is you're working with an artist you've worked with in the past and with whom you're comfortable. These are your headshots—don't afraid to say a lip or eyeshadow is too heavy for your taste. "Communicating properly to the makeup artist everything you're feeling while you're getting your makeup done is really important," Fontana says. "It's important to be confident enough to bring those things up."
3. Decide how you'll pose in your headshot.
You want something that looks natural, not something that looks like you're acting for the camera. You want to look engaged. While enthusiasm is key, subtlety is your friend here. You don't want to look like your happiness is posed or put-on. Just be yourself, and a good photographer will make you photo-ready. As for the rest of your body, there are some major no-nos to keep in mind with hand, arm, and head placement. Cartwright says to keep your hands away from your face, to keep your shoulders level, to keep your face relatively centered, to not lean forward too far, and to keep your head square and not tilted back or forward. "My general rule of thumb is that if you wouldn't do a certain position while having a conversation with someone, don't do it in your headshot.
RELATED:
5 Tips for Finding and Nailing Your Headshot Style
How Many 'Looks' Do You Need For Your Headshots?
How to Know When to Take New Headshots
How to Pick the Right Headshot for Your Backstage Profile
Résumés
The next tool is simple enough, in that you need a résumé for just about any job you're applying for. Dancing may be your passion, but it's also a profession! While you probably have a standard CV with your experiences as a nanny, server, dog-walker, and survival job–haver extraordinaire, a dancing résumé needs some extra information.
Generally speaking, résumés should be concise, clear, and easy to read. They should also include the following information:
Your name
A working phone number
Email address
Union status (AEA, EMC, SAG-AFTRA, SAG-eligible, nonunion, etc.)
Your work experience (duh!)
No need to list your age or address or other personal details. Physical attributes like can be included depending on who and what you're auditioning for. Theater auditions don't generally require such details, while film productions—especially if you're self-taping—often do. Furthermore, don't shy away from including a URL for your website or demo reels—but don't go overboard. Again, it should be clear and neat, and an assortment of hash marks and numbers in a URL can be distracting.
In addition to the personal stats above, of course, comes your actual experience as a dancer. Categories are often listed as follows: National Tours, Regional Theater, Live Performance, Film/Television, Commercial, Print, Training/Degrees, and Special Skills. Academy and college performances will eventually make their way off the résumé once you get a few more professional credits under your belt, but in the beginning, every bit counts. All listed credits should include show titles, roles, directors, and producing organizations; casting directors are known to give a directing friend or producing company a call for some feedback on talent. Make their job easier by giving them all that information upfront.
The No. 1 rule of résumé writing? Never lie. "In general, 100 percent honesty on paper is your best friend," says Clifton Guterman, a casting director and Backstage Expert. That not only goes for your credits, but for your skills. "Beware a vast list of quirky special skills if you can't legitimately execute all of them on the spot," Guterman continues. "We rarely torture actors by asking for proof, but you never know when someone might…. Stretching the truth calls your intent and, perhaps, your integrity into question."
Sneha
Hi I'm Sneha, arts and crafts have been my passion since my childhood. I have writing blogs for a long time now and my areas of interests are just not limited to craft. My aim is to write and share my experiences with arts.
Related posts
September 2020
M
T
W
T
F
S
S
1
2
3
4
5
6
7
8
9
10
11
12
13
14
15
16
17
18
19
20
21
22
23
24
25
26
27
28
29
30